Pastor James H. Battle
In Loving Memory of our Beloved Pastor the Late Rev. James. H. Battle
Pastor of Peek's Chapel Baptist Church form January 1980 – August 2020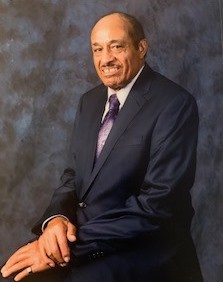 Pastor Battle was a native of Union Point, Georgia. He was born into a Christian family, and was baptized at the age of nine. He was married to Mary Battle and they had two daughters; Glenda, and Teresa and 2 granddaughters; Joy and Zoe. His father was a dedicated deacon in the ministry.
Pastor Battle was ordained in 1971 at Randolph Baptist Church in Greensboro, Georgia under the leadership of the late Pastor R.T. Stevens.
On Dec. 1, 1979, Rev. J. H. Battle was called as pastor of Peek's Chapel Missionary Baptist Church. He began his leadership in January of 1980. Rev. Battle was officially installed as pastor on May 4, 1980. Rev. A. Mosely preached the installation message.
When Pastor Battle came to Peek's Chapel 40 years ago, the church only had church service on 1st and 3rd Sundays. The 2nd and 4th Sundays were added. He was given a plan by God to pay off the church mortgage early. In 1987, the mortgage was retired.
Under his leadership, many ministries were formed and re-organized. The Male Chorus, Hospitality Committee, Pastor's Aide Ministry, Women's Ministry, Monday night Intercessory Prayer, Children Ministry, Children's Church, Dance Ministries, and Youth Scholarship Fund. He also started Bible Study every Thursday night.
Due to a need for growth, the church purchased 10 acres of land in October 2002. Pastor Battle used the same plan God had given him to retire the mortgage to pay off the land. In 2005, the mortgage was retired for the land. On May 25, 2005, the pastor, members and friends gathered at the land site for a dedication service.
In November 2011 it was decided to do an interim project and remodel the church sanctuary due to the failing economy. The remodeling project was completed on schedule and within budget. Under Pastor Battle's leadership, the church is currently debt free.
A great many 'Sons & Daughters of the House' have matured under his ministry. He currently had 14 sons and five daughters in the ministry. Five of them are currently pastoring in the community. During his tenure he has ordained 22 deacons to serve at Peek's Chapel.
For the past 40 years Pastor Battle has been faithfully teaching and preaching the Gospel of Jesus Christ at Peek's Chapel. He set the example for his sheep to treat everyone with love and respect. He was always in attendance to Sunday School, and Bible Study, to share his wisdom and knowledge. He only took vacation one Sunday a year. Every 2nd Sunday in August he would go and visit his home church, Randolph Baptist Church in Union Point, Georgia. He faithfully visited and delivered communion to sick members and their family members, supported the bereaved families, performed wedding ceremonies, and counseled the broken hearted.
Pastor Battle didn't believe in retirement from pastoring. He faithfully served as Senior Pastor until his passing on August 5, 2020. Due to the Covid-19 pandemic of 2020, the church was unable to have in person service. Even though Pastor Battle's health was failing he was still giving "Words of Inspiration" from his bedside, counseling members and praying for the sick.
Pastor Battle accomplished many great things at Peek's Chapel but his primary passion never changed over the past 40 years. It was to help bring people to the saving knowledge of Jesus Christ. For God so loved the world, that he gave his only begotten Son, that whosoever believeth in him should not perish, but have everlasting life. John 3:16